Why Dwayne Johnson's Hobbs Isn't In Fast X
Despite having previously been a massive part of the Fast and Furious franchise, Dwayne "The Rock" Johnson will not appear as Luke Hobbs in Fast X. Hobbs first appeared in 2011's Fast Five. Working for the Diplomatic Security Service, he heads to Rio de Janeiro to arrest Vin Diesel's Dominic Toretto, Paul Walker's Brian O'Conner, and the rest of the family after they are framed for the murders of several DEA agents, who were actually killed on the orders of crime lord Hernan Reyes. Following a wall-busting fight with Toretto, Hobbs joins forces with the family to avenge his fallen agents and bring Reyes to justice.
SCREENRANT VIDEO OF THE DAY
Johnson appeared as Luke Hobbs in every subsequent Fast and Furious franchise entry until 2021's F9, even earning his own spin-off, Hobbs & Shaw, in 2019. Dwayne Johnson exiting Fast and Furious' mainline series left massive ramifications on F9. If he had not left, then John Cena may not have appeared as Dominic Toretto's long-lost brother, Jakob, thus retconning the character's entire backstory. However, an infamous behind-the-scenes feud has now ensured Dwayne Johnson's absence from Fast X.
Related: Fast X's Trailer Supports A Big Brie Larson Character Theory
Dwayne Johnson's Fast X Absence Stems From His Feud With Vin Diesel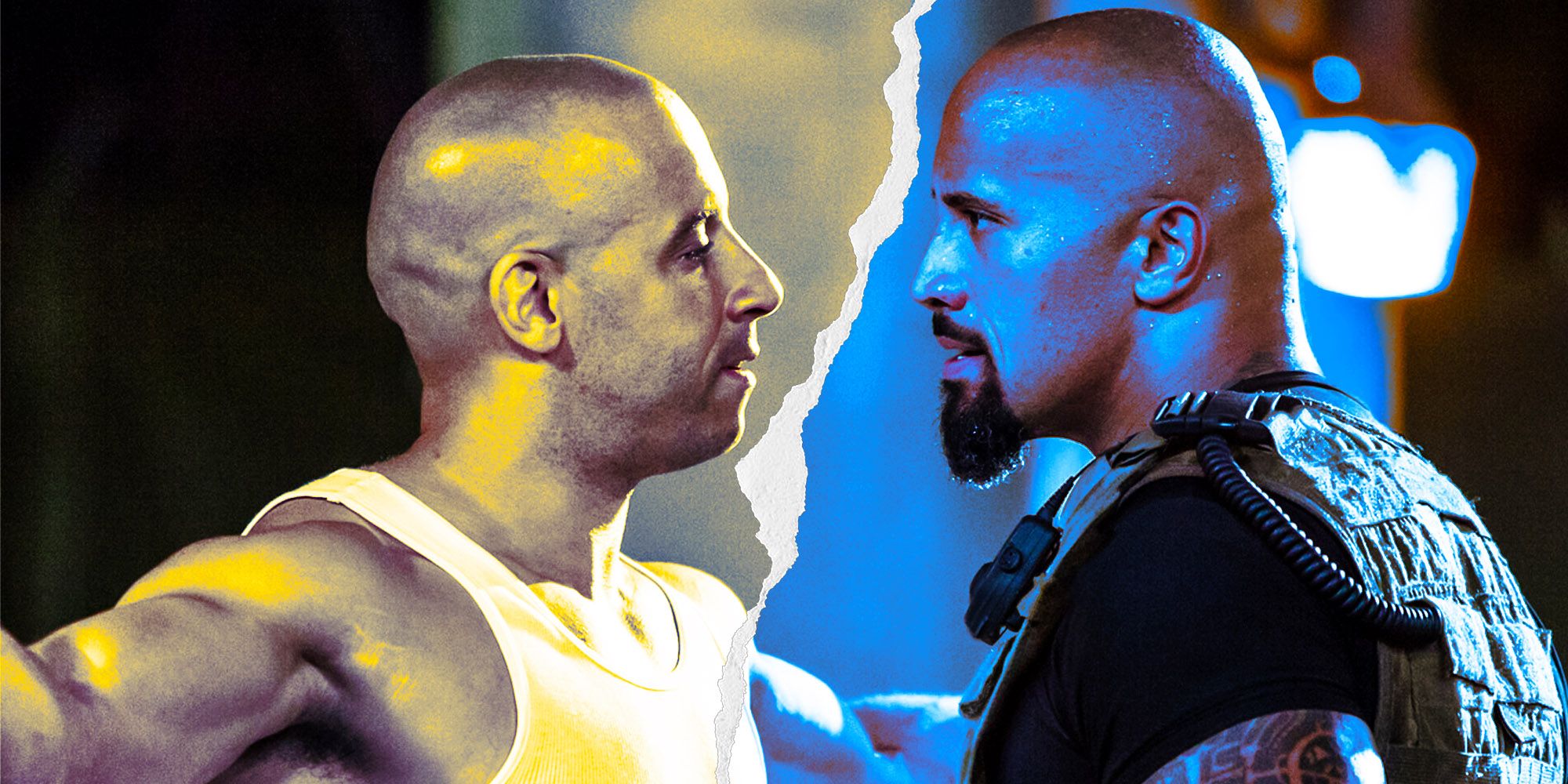 Fast and furious vin diesel Rock feud
The major explanation for Dwayne Johnson's Fast X exit stems from his infamous, ongoing feud with Fast and Furious star Vin Diesel. The feud between the franchise's two leading men became public in 2016, following the publication of a since-deleted Instagram post where Johnson accused several unspecified male cast members of being "candy asses." The feud escalated during the production of F9 when co-star Tyrese Gibson blamed Johnson for a delay in filming. Although the feud only became public in 2016, it may have caused one infamous Fast & Furious 6 scene, where both Hobbs and Toretto seem to change size with each cut.
After it was revealed that Johnson and Diesel did not film a single scene in The Fate of the Furious together due to their strained working relationship, Johnson left the mainline franchise for the spin-off Hobbs & Shaw​​​​​​, which focused on Luke Hobbs' rivalry with Jason Statham's Deckard Shaw. Following Johnson's F9 absence, Diesel publicly asked him to return for Fast X on Instagram. However, Johnson turned him down, claiming that Diesel's post was manipulative. This indicates that the feud between the two Fast and Furious actors is still very much alive.
How Hobbs' Absence Led To Jason Momoa's Dante In Fast X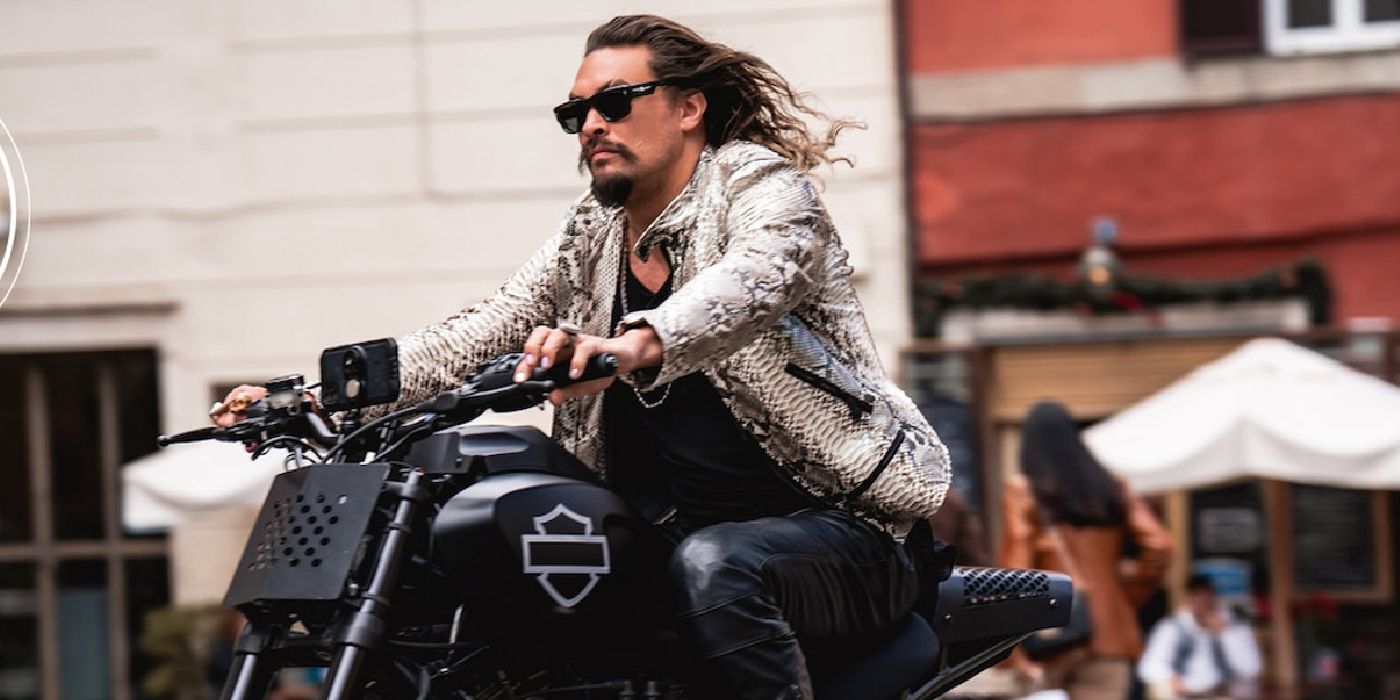 Jason Momoa in Fast X.
Much like John Cena's casting in F9, Jason Momoa as Fast X character Dante is once again attempting to fill a Dwayne Johnson-sized hole in the Fast and Furious franchise. Dante occupies an antagonist role similar to Hobbs in Fast Five, and both characters bring a significant physical presence. Indeed, Fast X's trailer suggests that Momoa's Dante could be the son of Fast Five villain Hernan Reyes, out for revenge against the family following their successful heist in Rio de Janeiro.
With Dwayne Johnson's interest in rejoining Vin Diesel's onscreen family at rock bottom and little movement on a Hobbs & Shaw 2, Dwayne Johnson's time in the Fast and Furious lane may be over. Certainly, that will remain the case while he and Diesel remain at odds. For now, however, despite having been such an important part of the Fast and Furious series as Luke Hobbs, Dwayne Johnson will not be appearing in Fast X due to his ongoing feud with Vin Diesel.
More: 1 Detail Can Make Jason Momoa's Fast & Furious 10 Villain Much Better